Dear Readers,
Happy New Year!
The Bloggers Who Budget are so excited to kick off 2015 with more budget-friendly style, and this month, we're sharing our winter favorites for less. I'm partial to this Old Navy poncho I scored at Crossroads Trading Company for a whopping $12!
The poncho has been in constant rotation this season, especially as my more fitted sweaters are getting a little too snug around the bump. Warm and cozy, it's also incredibly versatile – I've worn it with skinny black pants and a blouse at work and a long-sleeved tee and leggings on the weekends. I also love that it eliminates the need for a scarf, thanks to the oversized collar. Anything that takes the guesswork out of getting ready in the morning is fine by me.
And for those of you asking for a bump shot…
Oh baby.
Budget Breakdown:
How are you keeping cozy and chic this winter? Share your favorites below and get inspired by these bloggers' stylish picks:
Sharing My Sole | The Style Letters | | Pearls & Twirls | Stylin in St. Louis | Living in Color Style | The Pumpkin Spot
Love style on a budget? Show us your stuff: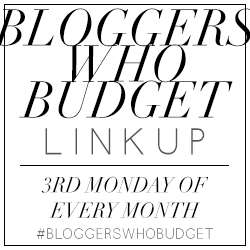 Bloggers Who Budget Link-Up Details: The Bloggers Who Budget ladies would like you to join in on the fun every 3rd Monday of the month, starting 8 AM EST! The BWB link-up is all about sharing how you shop on a budget. Each month will have a theme, which will be announced ahead of time. We want YOU to join in the fun of styling something around our monthly themes and can't wait to see it!
Coming up in 2015:
February: Leopard for Less ($75 and under)
March: Marsala for Less ($75 and under)
Want to join the BWB link-up? On the third Monday of each month at 8 AM EST, you can head to any one of our blogs to link-up your post. We kindly ask that you please follow all of our blogs (via Bloglovin', Twitter, Facebook, Pinterest, or Instagram!). Also, please provide a link to this in your post, or add the button below to your blog. If you tweet, please use the hashtag, #BloggersWhoBudget.