Dear Readers,
The Bloggers Who Budget are mad for plaid this month, and we're sharing our favorites under $75! So let's talk about this adorable dress from Old Navy.
As you know, I have a well-documented love affair with buffalo plaid (here and here, for example). The bigger the check, the better, and I love this dress paired with a little moto jacket and suede boots. The flirty drop waist is just the right length for work or play, and only minimal accessories are needed. If only all clothes were this easy. (Or this cute.)
Budget Breakdown:
Can't get enough plaid? Share your favorites below and get inspired by these bloggers' stylish picks:
Sharing My Sole | The Style Letters | Let It Be Beautiful | Here & Now | Pearls & Twirls | Stylin in St. Louis | Living in Color Style | The Pumpkin Spot
Love style on a budget? Show us your stuff: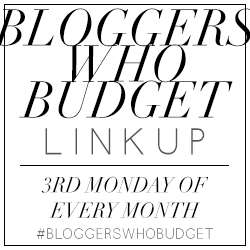 Bloggers Who Budget Link-Up Details: The Bloggers Who Budget ladies would like you to join in on the fun every 3rd Monday of the month, starting 8 AM EST! The BWB link-up is all about sharing how you shop on a budget. Each month will have a theme, which will be announced ahead of time. We want YOU to join in the fun of styling something around our monthly themes and can't wait to see it!
Want to join the BWB link-up? On the third Monday of each month at 8 AM EST, you can head to any one of our blogs to link-up your post. We kindly ask that you please follow all of our blogs (via Bloglovin', Twitter, Facebook, Pinterest, or Instagram!). Also, please provide a link to this in your post, or add the button below to your blog. If you tweet, please use the hashtag, #BloggersWhoBudget.
Disclaimer: the style letters occasionally receives vendor/brand sponsorships for mentioning their products and services.